That are our new porn news. Hope you enjoy the movies. 🙂 Happy wanking! Click the banners to see the page of the labels, previews and more pictures.
---
[columns] [span6]
[/span6][span6]
sadOsam: This slave seems to be very flexible. 🙂 Pity that we haven't been invited to this party. This ass inspires a master to … If you like young and sexy slaves, it is your movie! (Click the banner ⇓ to see more)
---
[adrotate banner="15″]
Tyler has a new Toy Boy!
Johannes' hole is far too tempting! The boy has been restrained and roped down to a mattress, his legs spread wide ready for Tyler to enjoy that pucker, and enjoy it certainly does! Fingering and playing with the boys pucker gets him horny for some sucking, but the blindfolded blondie doesn't seem to mind being face fucked! Flogging his arse and feeding him cock Tyler gets so worked up he rams his thick and long meat into the boys hole and fucks him hard, finishing with a shower of cum over those cheeks!
[/span6][/columns]
---
[columns] [span6]
sadOsam: Do you like it harder? Than you're allways right with Bound Gods. Real classic SM porns which let a lot of kinky guys dream about the dungeon, equipment and treatment! (Click the banner ⇓ to see more)
---
[adrotate banner="16″]
New Dom Pushes his Slave to the Limit
On his knees and a crop clenched in his teeth, Slave #153 awaits his new master, Vinnie Stefano. Vinnie arrives and makes it clear that 153 won't get his master's cock so easy; he'll have to prove his mettle through pain. Vinnie reddens the slave's pale chest with the riding crop for the first test. Since he took the crop so well, Vinnie has the hungry slave gag on his cock. Now it's time to fuck. 153 has his arms tied backward as another rope pulls his cock to the ground, ass presented out for his master. Vinnie plunges deep inside 153 and gives him a rough fucking. Vinnie covers 153 in heavy chains between two pillars and gets his flogging arm warmed up for a vicious session. Moving a U-shaped platform, he gives 153's another stretch with a cluster of weights and eats his pink hole. Now Vinnie's ready to fuck again and stuffs 153 into the platform gap headfirst. He piledrives 153's ass until he's ready to spray the slave's face in hot cum. After suffering through all the torment dutifully, 153 earns the privilege of blowing his own load onto Vinnie's boot.
[/span6][span6]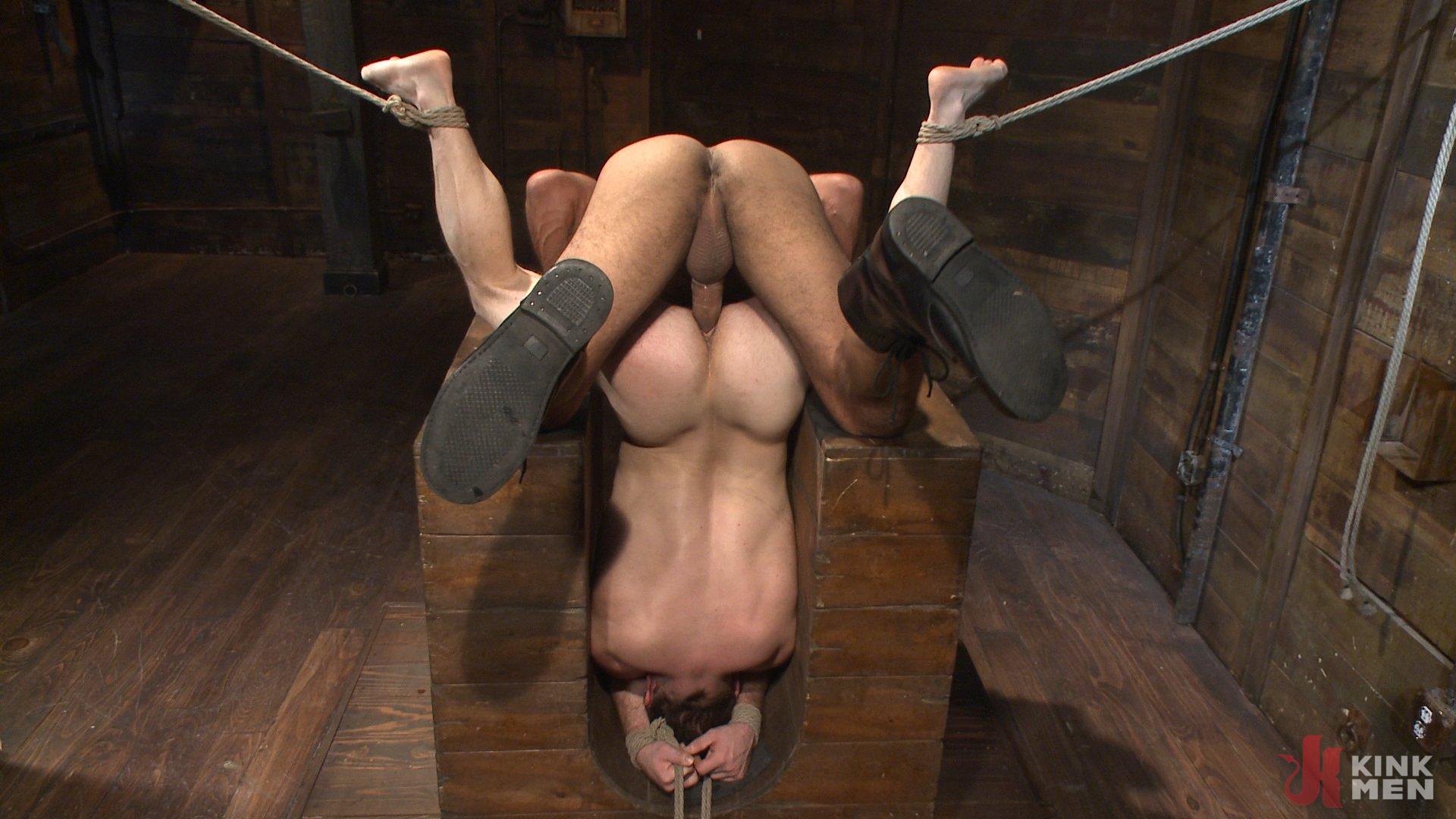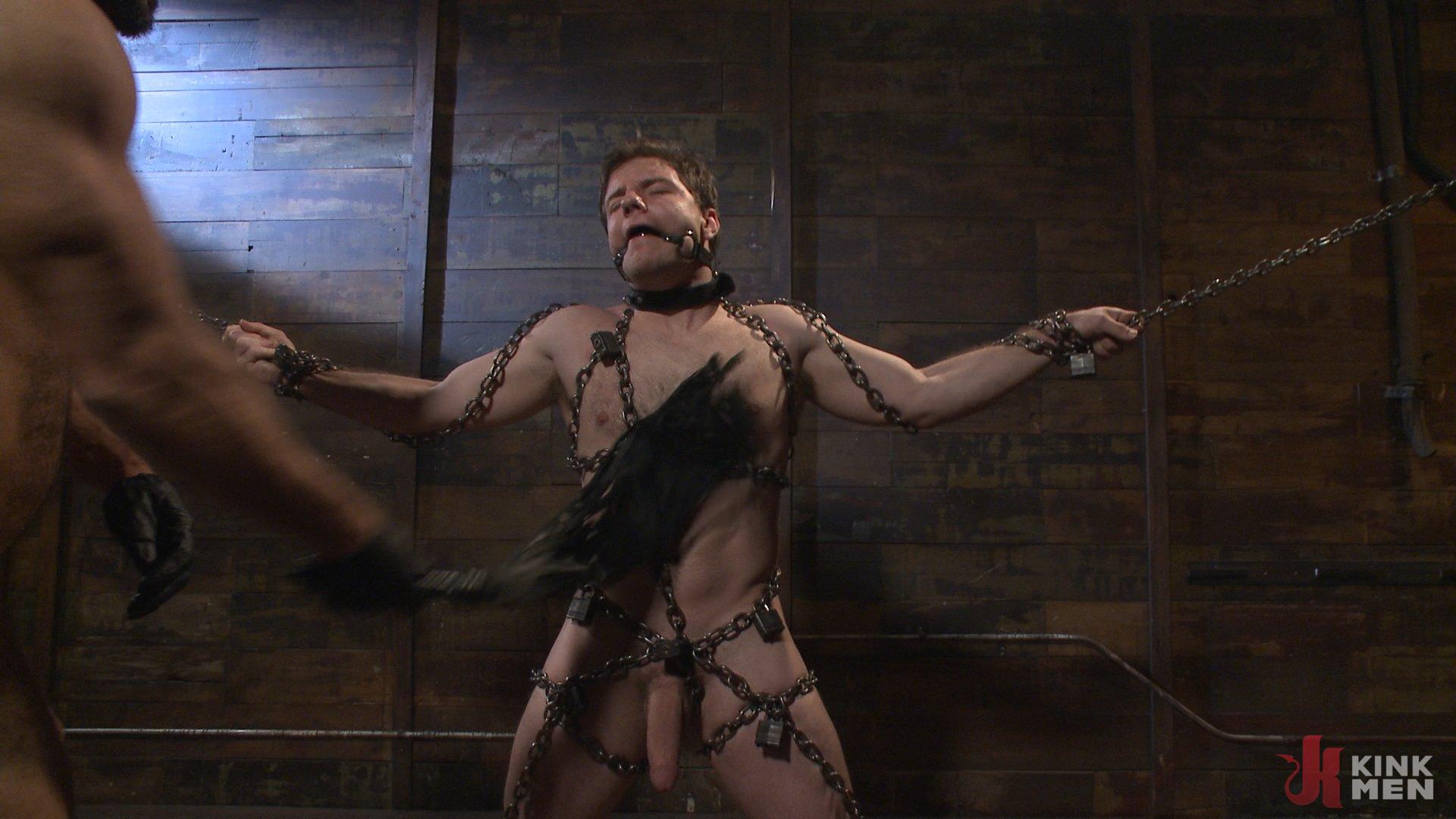 [/span6][/columns]
---
[columns] [span6]
[/span6][span6]
sadOsam: Hot and sexy gym-twing in action. If you like young sporty guys and spanking is a turn-on for you, than you will love this movie and the red ass of the boy …. I would love to continue to spank the boy because I love his suffering face 🙂 (Click the banner ⇓ to see more)
---
[adrotate banner="17″]
No Pain No Gain
Some twinks don't listen. Some twinks talk too much. Some twinks are downright disrespectful. When the usually adorable Logan Cross goes all sexy stepchild on muscle boy Max Carter, the alpha adonis employs his own version of getting cheeky and gives new meaning to the term 'personal trainer' in this sizzling spank scene.
[/span6][/columns]
---
[columns] [span6]
sadOsam: Real men and real bondage. That is Men on Edge. I normally like it harder but kink.com is allwas doing good fetish and SM movies. (Click the banner ⇓ to see more)
---
[adrotate banner="18″]
Dolf Dietrich Surrenders His 8 Inch Cock for Edging
Lean, cut Rex Cameron arrives at the Armory to see if he can make it though an edging session with Sebastian and Jessie. Rex gets hard as soon as the ropes secure his body to the chair where he'll sit and try to deal with an onslaught of pleasure. Sebastian fits Rex with a blindfold to center the stud's mind on the sensation of Jessie's blowjob. He moans eagerly as Sebastian gags him with his precum-stained underwear. The two take a pair of hitachis and run it up and down Rex's shaft, edging him repeatedly. Sebastian switches the vibration for a fleshjack, driving Rex wild as he bucks his hips against his restraints. Rex takes a rough tickling before Jessie and Sebastian move him to the center of the room. With his arms and legs stretched from wall to wall, Sebastian adorns Rex's throbbing dick in rope while Jessie worships his balls. They move their attention to the stud's ass and plunge a dildo deep inside his hole. Edged over and over, Rex can't take any more of the treatment and begs to cum. The two finally let him blow a load as Sebastian handgags his face. Jessie gives Rex a handful of his thick load before he and Sebastian tickle his body all over.
[/span6][span6]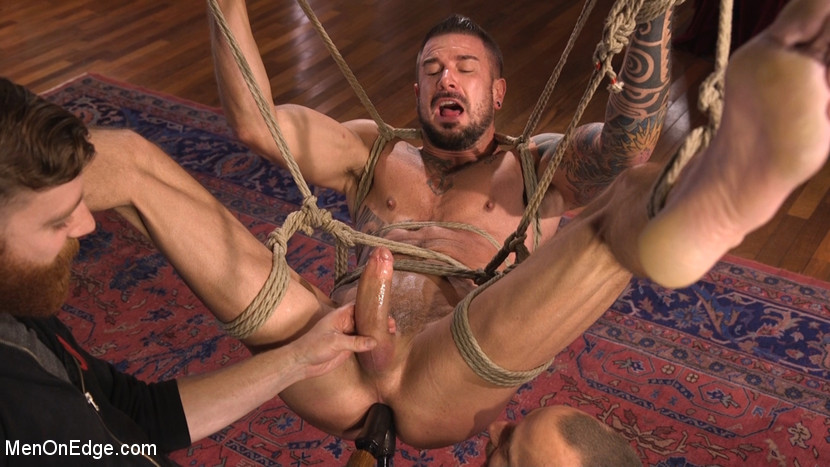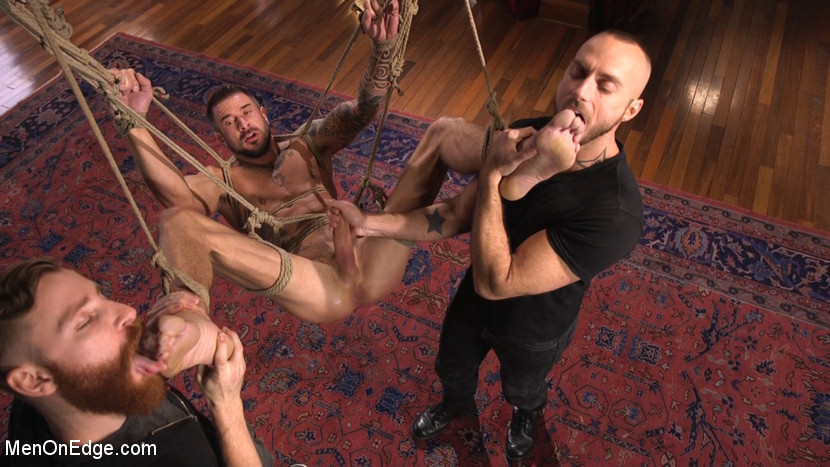 [/span6][/columns]
---
[columns] [span6]
[/span6][span6]
sadOsam: Some time ago we have presented Yoshi Kawasaki in an interview. Now he has a new scene out! Watch our favourite asian porn actor getting his ass full laying on a sling. (Click the banner ⇓ to see more)
---
[adrotate banner="15″]
Yoshi gets his arse used by Titus
Titus, our new dark haired fucker, has Yoshi tied into the sling with his tender hole ready and waiting. Wasting no time time Titus has the lube out and starts to work Yoshi's ass, finger by finger. Yoshi screams as his whole is stretched wider, until finally Titus is sure that his hole is ready for his dick, and a pounding that Yoshi will never forget.[/span6][/columns]
---
[columns] [span6]
sadOsam: Do you like to see a cute blond twink suffering? Than you'll watch this movie several times. Marks are real and not make-up. I love see the guy crying. 🙂 But ok, that is my taste … don't know if it is yours. 😉 (Click the banner ⇓ to see more)
[adrotate banner="19″]
Seth- "Exceeding the Limits"
Five years ago, Seth, then 19, was abducted by two men and spent a week imprisoned and tortured. He's never been the same since, drifting into a life of crime. He has been sentenced to 48-hours of non-stop torture at the hands of master sadist Jared. First he is bolted to a wall face first and brutally flogged, then he's flipped around and brutally flogged again. Dozens of clothespins are clamped to cock and chest and he's left overnight. In the morning he's laid on the bondage table and bullwhipped, the wounds soaked with alcohol. Then he's ordered to jerk off before Jared applies jumper cables to his cock and balls until he passes out from the shock and pain. A beautiful boy beautifully tortured.
[/span6][span6]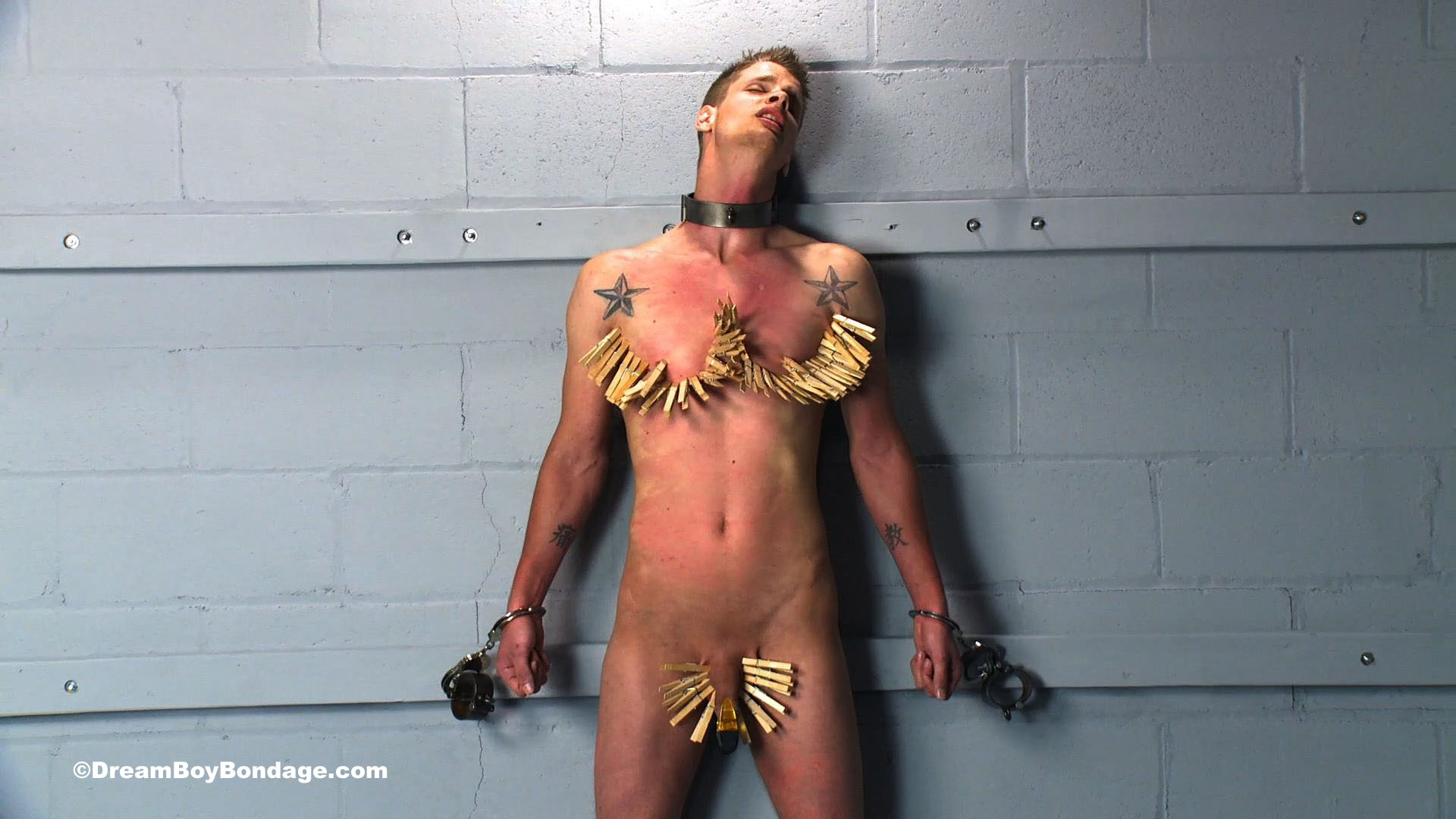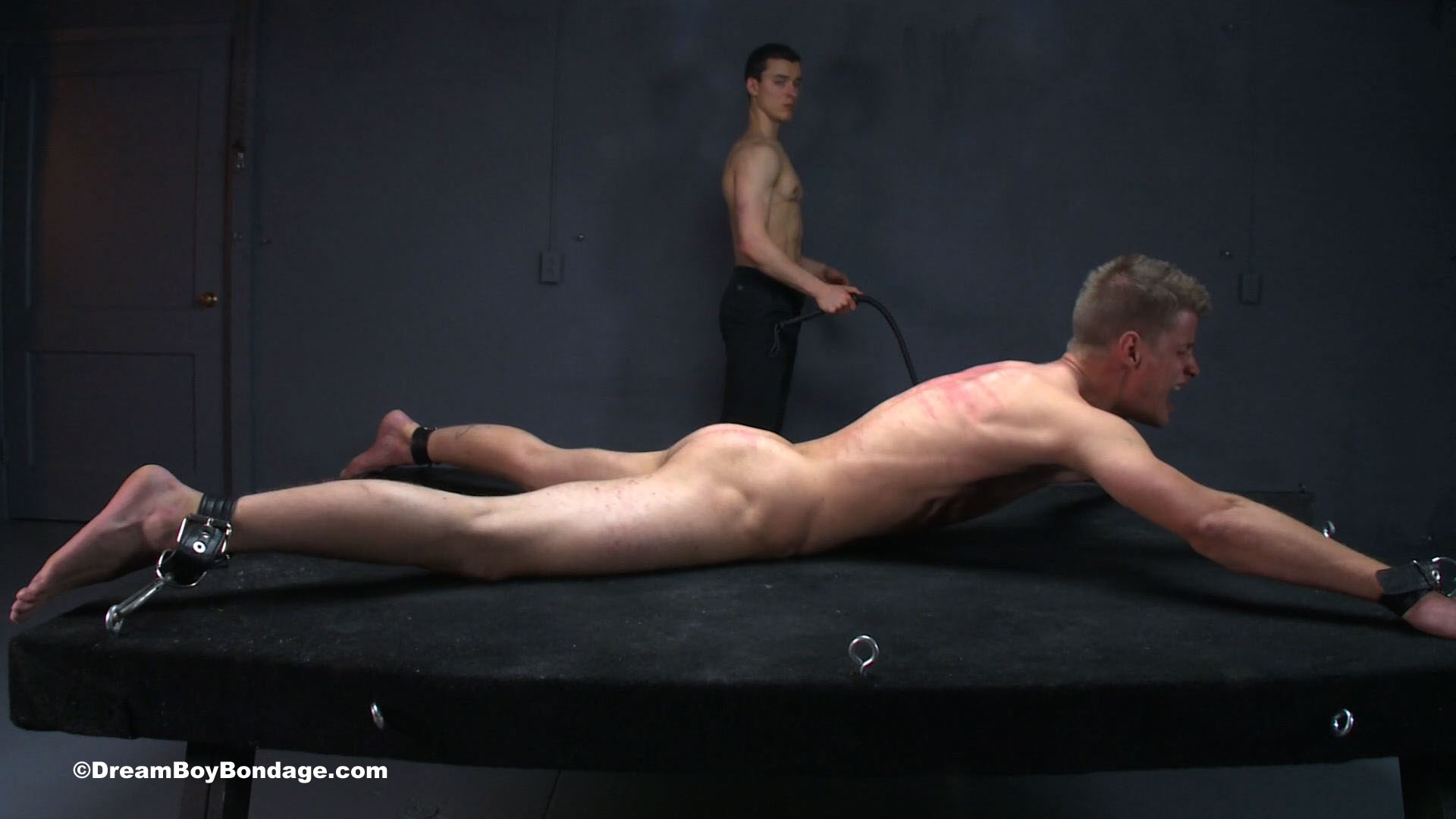 [/span6][/columns]
---
[columns] [span3]
more porn news
[/span3][span3]
Spanking by Sebastian
[/span3][span3]
Fisting by Axel Abysse
[/span3][span3]
Yoshi Kawasaki conquering Europe
[/span3][/columns]