When masturbating to porn, sometimes just vids aren't enough. You want to dwelve into a story, be engaged in it. The stories on here are such a great resource for that. But there's more than just those out there. There are games too. I'm going to present a few in this article.
Please mind that some of them are not straightly gay, and also includes many other sexual orientations and identities. Some even allow you to switch between a lot of things 🙂 Also some of them are furry. Because they're quite inventive, and seem to be more kinky than a lot what's out there. If that's not your thing, wellll… maybe go for more conventional ones?
This is part 2 of the game list. Find part 1 here 🙂
---
Genres: Furry, Laboratory, Medical, Experimentation
Rack 2 is a bondage-themed adult video game featuring predominately furry / anthropomorphic characters.
You play the role of a scientist at Rack Laboratories, where you conduct sexual experiments for research and profit! Rack 2's core gameplay is similar in nature to Rack 1. You will be presented with characters in science-themed bondage scenarios, and given a number of toys and gadgets to interact with them. Unlike Rack 1, Rack 2 will feature several different bondage poses and machines, and it will allow you to control a heavily-customizable scientist character, so you can pleasure your subjects personally in a fashion similar to Bedplay. Because Rack 2 is being developed in 3D, you will have full control of the camera and viewing angles, including a first-person interaction mode and the ability to set up cameras throughout the testing environment for alternate views in real time. Like Midnight Fireworks and Bedplay, Rack 2 will have a method to automate your actions, while your hands are busy doing other things.
This is a bigger project. Rack 2 is a fully 3D game made in the Unity Engine, where you can customize your (furry) character very much sims like, walk around and go experiment on your test subjects. There is a lot to still develop according to the devlog, but there's already some very good content in the game, and even more to come.
(there's also a Rack 1 already completed small game, which is very nice too!)
---
Genres: Interactive Story, Text based, Feminization, Male-to-Female Conversion, Humiliation, etc.
This story has you take control of Hayden Palmer, a young adult on his gap year. With some help from your friend Nick, you get into a prestigious academy, which promises to change your life…
A interactive story game where you get transformed into a woman, put into a unusual sex-ed school and made to do all sorts of kinky stuff. Depending on what you are into, you might want to disable some, but else it is really interestingly written.
---
Genres: Text based, Feminization, Crossdressing
Perverted Education is an erotic game in which the main character, an ordinary student of indeterminate (but legal) age, is slowly pulled from his ordinary life into the twisted depths of a female-led, submissive lifestyle. The corrupting tutelage of three influential women – his Teacher, Guardian and Therapist – will take him on a gradual, yet life-altering journey of physical and psychological transformation.

The game centers on the themes of forced feminization, corruption, humiliation and submission. A range of other fetish content is also implemented that can be toggled according to player tastes. While not yet feature or story complete, Perverted Education is a highly mature project with approximately 3 million characters of source code and 50,000 lines of existing content, continually expanding through active development.
This game is very popular among the feminization scene, however due to patreons nfsw regulations it became a lot less intense (there used to be a non-con path that has been deleted), which left a lot of the fans frustrated. The previous versions still include it though, if that's your thing.
---
Kerpal is a tempting land, with deep mesmerizing jungles, waterfalls, steep canyons, and sandy beaches. But don't let the beautiful landscapes trick you, Kerpal is a dangerous place. Eons ago a colonist ship crashed onto its surface. The passengers, living in isolation, developed into a neolithic culture and adapted well to the dangers of their new home. Unexpectedly parts of the population transformed, turning into new beings that appeared part human, part animal. This drove some of them into feral rage while others kept their humane traits and were able to coexist with the human tribes. Centuries later a group of adventurers and scientists are coming to Kerpal in search for discovery. But not all of these explorers came along merely out of curiosity. Some have darker motives. Worlds will collide, intensifying the danger and conflict. It's up to you to explore this exciting adventure.
This is likely the biggest project in regards to sex games atm. A Professional dev team trying to make a fully working 3D RPG with a lot of sexy times. You can play as both genders, and take over other races and characters too. While still in development, it is definitely worth checking out.
---
Genres: Gay, College, Dating Simulator
Coming Out on Top follows college student Mark Matthews as he busts out of the closet and engages in all manner of adventure, all the while meeting a multitude of hot guys. Whether he does the right thing, wrong thing, stupid thing, or funny thing is up to you. Beard and body hair options available for all the guys.
Includes 6 full, long routes, 10 unforgettable dates, and a boatload buttload of hilarious hijinks. 18 hot guys are waiting for you to win them over.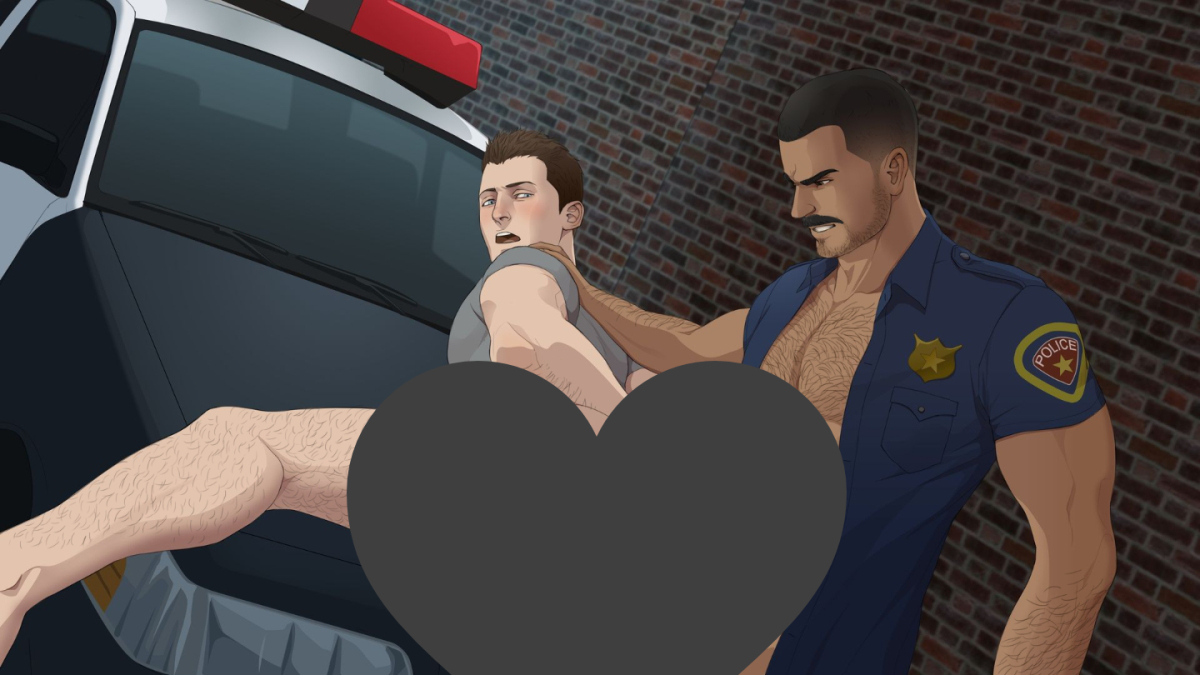 Although not very kinky, this game does manage to give a lot of good laughs while still include quite a lot of horny with good stories. It is definitely recommendable and the many storylines provide good replay value.
---
Genres: Text based, Feminization, Crossdressing
Secretary is an erotic adventure/life simulation game, where the character starts as a normal guy in his late twenties who is about to transition from a dead end IT Job to a new position as the personal Secretary to a very important executive. Your choices choose how your development progresses as you interact with coworkers and friends and steer your way to learn that there's more going on at this company than might first appear…
Another feminization game that's very popular among the scene. Its story is quite linear, but still allow you to explore quite a few different paths in what you'd like to become.
---
Genres: Management, Dating Simulator, LGBT-friendly
Victorian Business Tycoon? Dating Sim? Why not both!?
Max Gentlemen Sexy Business! is a hilarious and titillating romp through Victorian era London as a social elite. Your family business has been stolen and you must partner with other powerful executives, fight your rivals and regrow your business to its former glory.

12 magnificent gentlemen and ladies to date – Hours of absurd dates and stories. Over 100 fun and sexy outfits to unlock. Collect provocative art for your "private gallery."Manage your executives – Assign executives to tasks to raise their skills, fight rivals, buy money and more! Make your very own Gentsona – With our robust character creator, there are limitless combinations! You even get to choose your own business tycoon pronoun. Date anyone and everyone – There are no limits to your romantic proclivities. Max Gentlemen Sexy Business! is LGBTQ friendly! Nudity! If you want… – Using our cutting-edge content filter, you'll only see what you want to. Character specific settings and "spoiler tags" allow you to fine tune your exploits to your liking. Partial VO with over 16 voiced characters. Live out your Victorian tycoon fantasies to the maximum in this love letter to all things genteel.

Max Gentlemen Sexy Business! Is a game that was created to both contain nudity and mature content in a mindful manner. We've taken great care to be inclusive and respectful while we crafted our world. We hope we've created something that can stand as an example of great adult content.
A fully realized management game with lots of funny and sexy animations for hours of fun 🙂
---
Less sex-oriented games:
Genre: Dating Sim, Gay, Daddies
Dream Daddy: A Dad Dating Simulator is a game where you play as a Dad and your goal is to meet and romance other hot Dads. You and your daughter have just moved into the sleepy seaside town of Maple Bay only to discover that everyone in your neighborhood is a single, dateable Dad! Will you go out with Teacher Dad? Goth Dad? Bad Dad? Or any of the other cool Dads in this game? With minigames, sidequests, and a variety of paths and endings, Dream Daddy: A Dad Dating Simulator is this year's most anticipated Dad-based game.
Alright, I'm going to put this one on here to, since it's a known one, though less horny, and more heartwarming story. It made the round on social media some time ago, and has gotten quite popular, funny enough not only by gays but also women who enjoy such a story.
Very well written, with A LOT of dad puns, and as said, quite heartwarming, even if you aren't the family type 🙂
---
Genres: Dungeon Crawler, RPG, Swords?, Dating Simulator
You move into your cousin's old apartment, rent-free for the summer. Plus, he'll help you solve your little problem… you've never been on a date in your life!

To get some confidence and meet people, plus earn a little cash, you're tasked with clearing the creatures in "the dunj". Soon you discover weapons you find transform into cuties… and they're SINGLE! (What a craaazy coincidence because you also happen to be up for grabs yourself.) But someone's abducting weapons and leaving them damaged in the dungeon! Who could do such a thing? Will you solve the blade-napping mystery? Will you find love? Or, friendship, at least?

Craft gifts for your bae blades and give them when the time is right, whether it's in the dunj or out on the town. After all, a couple that slays together, stays together.
Soooo…. ever … thought about dating a sword? Yeah me neither. But… it's surprisingly fun? I didn't think that it could be at first, but the game is really suprisingly well made. It's got animations, voice-overs, etc. All the fancy stuff. And the story is well written, and while not taking itself always entirely serious, keeps you into it. It's not really on XXX, but still, good game.
---
20. 家有大貓 Nekojishi
Genre: Visual Novel, Dating Sim, Furry
Found on: Steam
A romance torn between school life and mysterious spirits!

Born into a religious family, Lin Tian-Liao left his hometown and moved to Taipei to study and follow his dreams, trying to escape the pressures of returning to his family's temple in the process. His ordinary college life seemed to be going well until suddenly one day his third eye was opened. Liao, now able to see the various spirits and gods in the world, has to deal with his new found powers, his school life, and three particular cats who all want to have a say in his life and his future.

Nekojishi is a visual novel about the pressures and consequences of deciding your future in a world of gods and spirits, the position that religion and folklore take in modern society, and three feline beast-men that Liao can't seem to get out of his room or out of his head!

Note: Nekojishi features same-sex romances and cute cat dudes.
---